FTC Disclosure:
In order for me to support my blogging and social media activities, I may receive monetary compensation for my endorsement, recommendation, reviews and/or link to any products or services from this article. However, I only recommend products or services I feel are up to my standards. Emmmmerz is a participant in the Amazon Services LLC Associates Program, an affiliate advertising program designed to provide a means for sites to earn advertising fees by advertising and linking to Amazon.com
All information on Emmmmerz is meant for educational and informational purposes only. The statements on this website have not been evaluated by the Food and Drug Administration. Products and/or information are not intended to diagnose, cure, treat, or prevent any disease. Readers are advised to do their own research and make decisions in partnership with their health care provider. If you are pregnant, nursing, have a medical condition or are taking any medication, please consult your physician.
Full Policies and Terms can be found here
.
A dossier is a collection of papers or other sources, containing detailed information about a particular person or subject. This page serves as a behind the scenes look at the site.
Launched: January 1, 2008
Hacked: April 2013 (The site was removed from the servers, and my backups were corrupt. I had to start over.)
Revamped: April 2016
My Reach
Collaborate with Me?
Sidebar Sponsorship/Free Affiliation
Social Media shoutouts
Send me info on a product for review; for small business or Etsy shop owners only
Sign up for my newsletter (once I get that up; momentarily, promise!)
Hosted by:
Current Theme: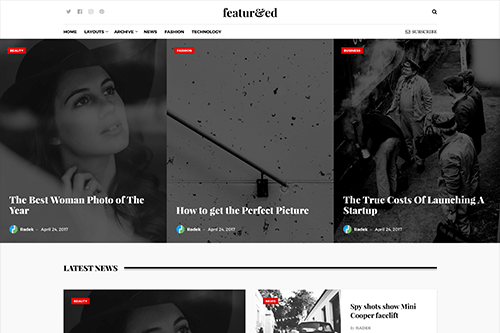 SMARTZINE by THEME JUNKIE Featured is a powerful magazine WordPress theme, for creating a beautiful, fully-customisable publication.
Plugins:
Long list!
A simple plugin to log 404 (Page Not Found) errors on your site.
By: Samir Shah.
Hide the fact that you are using WordPress, enable a well-configurable, secure firewall, run scheduled code scans
By: SWTE.
WordPress 4.3+ only. Extends admin functionalities by introducing: toggling post/page visibility inline, changing page order with drag'n'drop, inline category management, inline tag management, changing publication date inline, changing post slug inline, toggling comment status open/closed, hide draft posts, change media order, change media description inline, toggling link visibility, changing link categories
By: Oliver Schlöbe.
Manage and optimize your ads in WordPress
By: Thomas Maier.
AMP.
Add AMP support to your WordPress site.
By: Automattic.
Optimizes your website, concatenating the CSS and JavaScript code, and compressing it.
Better Follow Button for Jetpack.
Adds a customizable floating follow button to Jetpack Powered sites which lets users sign up for email blog post delivery.
By: Anton Pugachevsky.
Replace the default WordPress search with a contextual search. Search results are sorted by relevancy ensuring a better visitor search experience.
By: Ajay D'Souza.
Redirects or blocks spam traffic from bots, or any other site.
By: Sean & Ricky Dawn.
Allows you to minify your CSS and JS files for faster page loading for visitors. This plugin uses the PHP library Minify and relies on WordPress's enqueueing system rather than the output buffer (will not break your website in most cases). This plugin is very customizable and easy to use.
By: Khang Minh.
Catch IDs is a simple and light weight plugin to show the Post ID, Page ID, Media ID, Links ID, Category ID, Tag ID and User ID in the Admin Section Table. This plugin was initially develop to support our themes features slider. Then we thought that this will be helpful to all the WordPress Admin Users. Just activate and catch IDs in your page, post, category, tag and media pages.
By: Catch Themes.
Cloudflare speeds up and protects your WordPress site.
By: John Wineman, Furkan Yilmaz, Junade Ali (Cloudflare Team).
Reward your readers by automatically placing a link to their last blog post at the end of their comment. Encourage a community and discover new posts.
By: Andy Bailey.
Just another contact form plugin. Simple but flexible.
By: Takayuki Miyoshi.
WordPress indexes made easy.
By: Jayce53.
The Wordpress recipe plugin for non-geeks. EasyRecipe makes it easy to enter, format and print your recipes, as well as automagically doing all the geeky stuff needed for Google's Recipe View.
By: EasyRecipe.
The Editorial Calendar makes it possible to see all your posts and drag and drop them to manage your blog.
By: Colin Vernon, Justin Evans, Joachim Kudish, Mary Vogt, and Zack Grossbart.
Feed Them Social (Facebook, Instagram, Twitter, etc).
Create and display custom feeds for Facebook Groups, Facebook Pages, Facebook Events, Facebook Photos, Facebook Album Covers, Twitter, Instagram, Pinterest and more.
By: SlickRemix.
Makes sure the default WordPress AMP plugin uses the proper Yoast SEO metadata
By: Joost de Valk.
Google Analytics Dashboard for WP (GADWP).
Displays Google Analytics Reports and Real-Time Statistics in your Dashboard. Automatically inserts the tracking code in every page of your website.
By: Alin Marcu.
Finally the plugin to insert INLINE related posts.
By: IntellyWP.
Bring the power of the WordPress.com cloud to your self-hosted WordPress. Jetpack enables you to connect your blog to a WordPress.com account to use the powerful features normally only available to WordPress.com users.
By: Automattic.
Luvthemes core functions
By: Luvthemes.
Newsletter is a cool plugin to create your own subscriber list, to send newsletters, to build your business. Before update give a look to this page to know what's changed.
Import your content, widgets and theme settings with one click. Theme authors! Enable simple demo import for your theme demo data.
By: ProteusThemes.
Import links in OPML format.
By: wordpressdotorg.
This plugin adds a number of features to wordpress that enable you to easily write and organize a series of posts and display the series dynamically in your blog. You can associate "icons" or "logos" with the various series. This version of Organize Series Plugin requires at least WordPress 3.4+ and PHP 5.2+ to work.
By: Darren Ethier.
P3 (Plugin Performance Profiler).
See which plugins are slowing down your site. Create a profile of your WordPress site's plugins' performance by measuring their impact on your site's load time.
By: GoDaddy.com.
Make your WordPress post state list stand out with colors and color tags (draft, pending, sticky, etc)
By: BRANDbrilliance.
This Plugin Will Add Options in admin posts lists page to pick up start-date and end-date ranges to filter posts in your wordpress admin. It will give you instant filter options without any type of configuration just install it and use it.
By: Jaytesh Barange.
Publish Date DatePicker adds interactive calendar in publish section of post, page & custom post. It makes adding and changing date easier by selecting it from interactive calendar using mouse.
By: Vinod Dalvi.
Quick Page/Post Redirect Plugin.
Redirect Pages, Posts or Custom Post Types to another location quickly (for internal or external URLs). Includes individual post/page options, redirects for Custom Post types, non-existant 301 Quick Redirects (helpful for sites converted to WordPress), New Window functionality, and rel=nofollow functionality.
By: anadnet.
Get the real Bounce Rate and pageviews into Google Analytics.
By: Okoth1.
Slider Revolution - Premium responsive slider
By: ThemePunch.
Adds a flexible Back to Top button to any post/page of your WordPress website.
By: 6 Hour Creative.
This plugin will link your WordPress application with all the performance optimizations provided by SiteGround
By: SiteGround.
Shareaholic | share buttons, analytics, related content.
The world's leading all-in-one Content Amplification Platform that helps grow your website traffic, engagement, conversions & monetization. See configuration panel for more settings.
By: Shareaholic.
Supercharge your WordPress theme with mega pack of shortcodes
By: Vladimir Anokhin.
A drag and drop, responsive page builder that simplifies building your website.
By: SiteOrigin.
A collection of all widgets, neatly bundled into a single plugin. It's also a framework to code your own widgets on top of.
By: SiteOrigin.
Displays your numbers in Facebook, GitHub, Google+, Instagram, LinkedIn, Pinterest, SoundCloud, Steam Community, Tumblr, Twitch, Twitter, Vimeo, Youtube, posts, comments and users.
By: Claudio Sanches.
Techxplorer's Plugin Listicle.
Using a shortcode this plugin makes it easy to credit the authors of plugins used on your site.
By: techxplorer.
Allows you to merge terms and set term parents in bulk
By: scribu.
Easily to add custom css code to your site.
By: Theme Junkie.
A simple pack of shortcodes to enhance your site functionality.
By: Theme Junkie.
A set of shortcodes that can be used with any theme.
By: Themify.
Enables advanced features and plugins in TinyMCE, the visual editor in WordPress.
By: Andrew Ozz.
Revive Old Post (Former Tweet Old Post).
Wordpress plugin that helps you to keeps your old posts alive by sharing them and driving more traffic to them from twitter/facebook or linkedin. It also helps you to promote your content. You can set time and no of posts to share to drive more traffic.For questions, comments, or feature requests, contact us!
By: revive.social.
Backup and restore: take backups locally, or backup to Amazon S3, Dropbox, Google Drive, Rackspace, (S)FTP, WebDAV & email, on automatic schedules.
An easy way to add Google, Yahoo, Bing, Alexa and Pinterest meta tag verification codes to your site and gets ownership verified. It also adds statistics scripts to the footer of your site.
By: Tiguan.
Displays a custom welcome message to new visitors and another to return visitors.
By: Richard K Miller.
A collection of highly customizable and thoughtfully crafted widgets. Built on top of the SiteOrigin Widgets Bundle.
By: wpinked.
The first true all-in-one SEO solution for WordPress, including on-page content analysis, XML sitemaps and much more.
By: Team Yoast.
Clean Up Optimizer is a Superlative High Quality WordPress Plugin which not only allows you to clean and optimize the WordPress Database but also performs other vast functions.
By: Tech Banker.
Ultimate WordPress Content Editing.
By: Josh Lobe.
Set custom avatars for users with no Gravatar. The avatar will be the first (or any other) letter of the user's name on a colorful background.
By: Dev49.net.
wp-Monalisa is the plugin that smiles at you like monalisa does. place the smilies of your choice in posts, pages or comments.
By: Hans Matzen .
WP-Optimize is WordPress's #1 most installed optimization plugin. With it, you can clean up your database easily and safely, without manual queries.
Adds a more advanced paging navigation to your WordPress blog
By: Lester 'GaMerZ' Chan.
Very fast caching plugin for WordPress.
By: Automattic.
Admin dashboard widget (and optional daily email) that lists posts published to your site on this day in years past.
By: Scott Reilly.